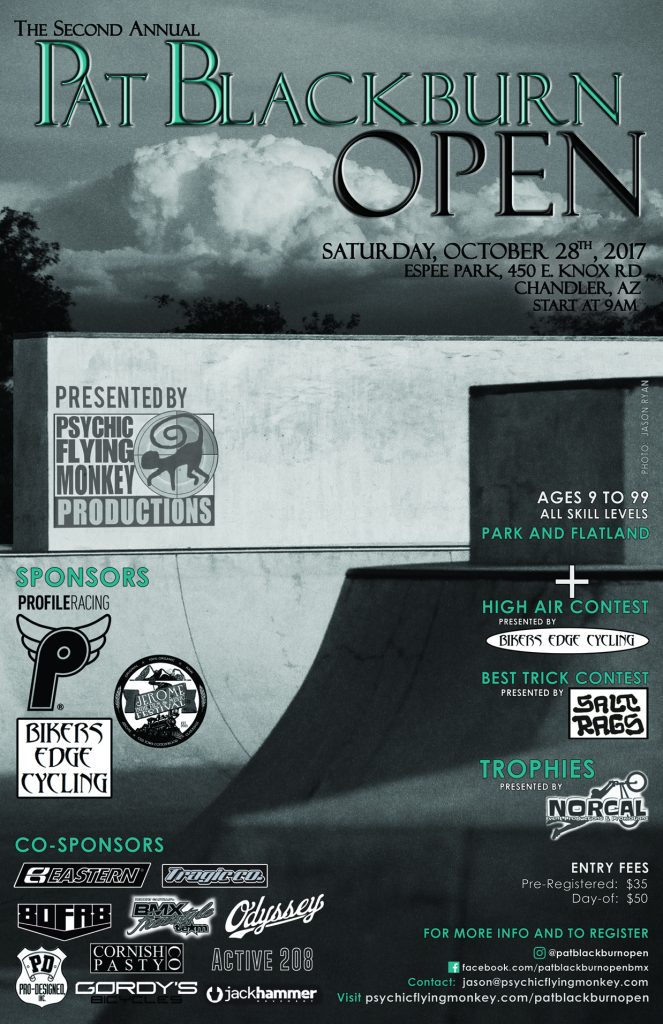 Psychicflyingmonkey Productions is proud to present the 2nd Annual Pat Blackburn Open, which will be held on October 28th, 2017 at Chandler Bike Park at Espee Park in Chandler, Arizona.  A grassroots amateur BMX freestyle contest, The Pat Blackburn Open was formed to provide a competitive outlet for amateur BMX freestylers of all ages and skill levels.  Although a new contest, The Pat Blackburn Open is already the biggest BMX freestyle contest in Arizona, based on rider count, audience attendance and prize count.  Pre-registration is currently open at the bottom of this page. 
Competitions will be held in both park and flatland disciplines.  The classes are as follows: 
9-12 Good Park     
9-12 Great Park
13-16 Good Park
13-16 Great Park
17-34 Good Park
17-34 Great Park
35+ Veteran Park
9-34 Good Flatland       
9-34 Great Flatland
35+ Veteran Flatland
About Pat Blackburn
Pat Blackburn was a BMX coach that cared deeply about BMX racing and the kids he coached.  Pat headed up The Bike, Blade and Board Coalition's effort to get the city of Chandler to recognize the need for legal, public places for BMX freestylers and racers to ride.  His leadership led to the design, build and opening of the Phoenix area's first bike park on May 5th, 2007.  Pat passed away in November of 2014 and this contest is named in his memory.
Psychicflyingmonkey Productions is a Tempe-based film production company specializing in producing BMX and other action sports films, commercials, music videos, and short and feature films.
About the Pat Blackburn Open
Although it opened in 2007, Chandler Bike Park had never hosted a legitimate contest…until just last year.  On October 15th, 2016, the first ever BMX freestyle contest went down at one of the raddest bike parks in the United States.  The Pat Blackburn Open was a great success and will continue to take place annually. 
Sponsorship, booth and banner opportunities are available for the 2017 Pat Blackburn Open. Please contact Jason Ryan here  for more information.

Pre-registration is now closed.  An entry fee of $50 is required from all riders registering for any class on Saturday, October 28th, 2017.  Registration opens at 8AM at Chandler Bike Park.  Contest begins at 9AM. 
See you at the bike park!